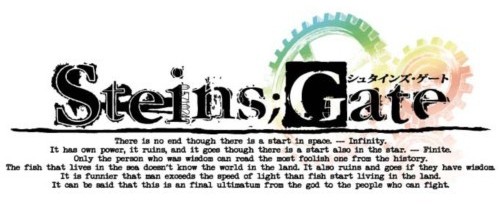 Infinite: The universe has a beginning, but not an end.
Finite: Stars also have a beginning, but perish by the power they possess.
History tells us: it is those who possess intelligence that are the greatest of all fools.
Fish, living in the sea, know not the world of land. If they possessed intelligence, they too would perish.
For fish to begin living on land is ridiculous; humans surpassing the speed of light, even more so.
Let this be considered God's final warning to those who defy Him.
Characters
Summaries
Drama CDs
Beta World Line - Divergence 1.130205% (4/28/2010)
Gamma World Line - Divergence 2.615074% (6/2/2010)
Omake
The Gate of Chaos (Nitroplus Complete Nov. 2009, 10/15/2009, 混沌の扉)
「俺の名は、鳳凰院凶真!!狂気のマッドサイエンティスト!フッハハハハハ!」